Put together to be an all-purpose audio interface, Focusrite Scarlett 2I2 allows people to create a solid connection between computers and instruments at will. In most of the cases, users only need to spend a few moments to set up the Focusrite audio interface. However, the setup process is not always smooth sailing and reports of errors appear from time to time. While all setup problems prove annoying, one trouble outmatches others once it comes to level of frustration: Focusrite Scarlett 2I2 not recognized.
An Analysis Of The Situation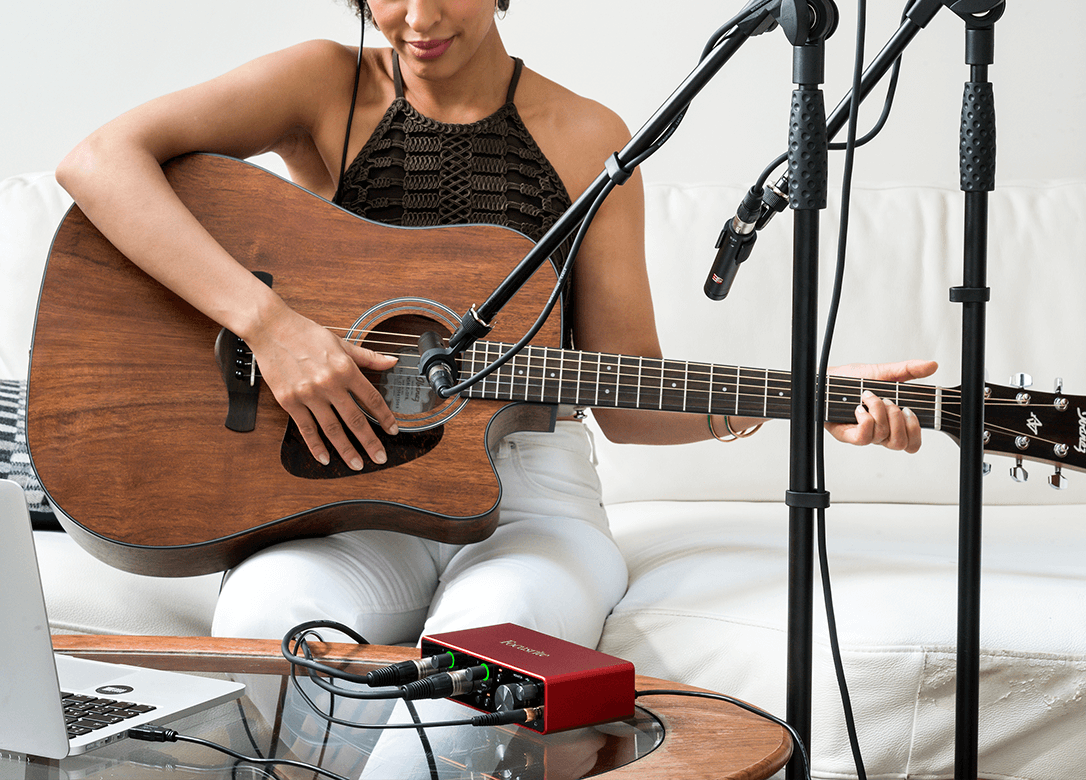 So you cannot get your computer to recognize Focusrite Scarlett 2I2 and don't know what to do? Then you may want to give this article a look. Down below is all the information that you must keep in mind about computers not recognizing the Focusrite audio interface.
Causes: A List Of Possibilities 
Generally speaking, different factors often lead to different issues but if your computer refuses to recognize Focusrite Scarlett 2I2, you should remember the following suspects.
Hiccups
Compared to their predecessors, modern computers feature superior performance in various regards yet they still run into hiccups on occasions. When computers act up in the course of operation, a number of features could go haywire and hardware detection is not an exception. That is why if your computer fails to find Focusrite Scarlett 2I2 during setup, it's a good idea to take hiccups into account. On the bright side, it seldom takes a lot of work to get rid of computer hiccups.
Driver Troubles 
Similar to its contemporaries, Focusrite Scarlett 2I2 won't run as soon as you connect it to your computer. To put the Focusrite audio interface to use, you have to make sure that your computer contains the driver for it. That being said, there is a catch: it's essential to install the driver before hooking up Focusrite Scarlett 2I2. If you don't install the driver before establishing connection, your computer may be unable to recognize the Focusrite audio interface.
Issues With Cable 
In layman's terms, the cable that links Focusrite Scarlett 2I2 to your computer dictates the stability of the connection. If the cable is in top shape, you should have an easy time getting your computer to notice the Focusrite audio interface. On the other hand, if the cable sustains damages, there is a very good chance that you would come across hardware detection problems. Needless to say, in articles that cover the topic of Focusrite Scarlett 2I2 not recognized, cable appears every now and then
Damaged USB Ports 
Generally speaking, USB ports of computers could handle certain abuses but they remain vulnerable to all sorts of damages. Since USB ports serve as access points for hardware, damaged USB ports inevitably prevent computers from recognizing hardware. Therefore, while analyzing setup issues of Focusrite Scarlett 2I2, it's suggested that you think about USB ports. Don't hesitate to ask for help from professionals if you know little about USB ports of computers.
Bad Unit
All of your equipment aside from Focusrite Scarlett 2I2 seems to be in good condition? In that case, you should consider the probability that you have a bad unit. Naturally, if the Focusrite audio interface is not in working order, your computer would have trouble detecting it. All in all, if Focusrite Scarlett 2I2 is the one responsible for the situation, you can't do much on your own.
Solutions For Computers Not Recognizing Hardware
When people experience setup issues as they connect hardware to their computers, they resort to quite a few fixes with varying degrees of success. Nonetheless, if you like to resolve hardware detection problems effectively and efficiently, you have to try out these measures.
Restart 
Even as computers get more and more advanced, restart is still one of the best answers to hiccups. By restarting your computer, you should be able to remove hiccups that impair the performance of its functions. To avoid more headaches, it's strongly recommended that you close all programs prior to restarting. In addition, save unfinished business so you could continue working on them following the restart.
Give The Driver Some Thought 
Regarding the driver of Focusrite Scarlett 2I2, a couple of scenarios exist and each of them requires a unique approach.
Focusrite Scarlett 2I2 is plugged in but you forget to install the driver: In the beginning, disconnect the Focusrite audio interface from your computer. Next, proceed to install the driver for Focusrite Scarlett 2I2. In the case that the installation proceeds smoothly, connect the Focusrite audio interface to your computer then set it up like usual.
You install the driver while Focusrite Scarlett 2I2 is plugged in: First, uninstall the driver for the Focusrite audio interface. Second, disconnect Focusrite Scarlett 2I2 from your computer. Third, restart your computer. When the computer comes back on, reinstall the driver, hook up the Focusrite audio interface and initiate the setup process.
You install the driver before plugging Focusrite Scarlett 2I2 in: Usually, if you connect the Focusrite audio interface to your computer after installing the driver, the setup process is going to unfold without a hitch. Nonetheless, if you still have a hard time, the version of driver could be outdated. You would be able to make use of Focusrite Scarlett 2I2 by updating the driver.
Inspect The Cable 
Check the cable that connects the Focusrite audio interface to your computer for signs of problems. For your information, exposed wiring suggests damages to integrity but on occasions, compromised cables may look intact from the outside. If you wish to stay on the safe side, it's widely advised that you pick up a new cable. Nowadays, it's possible to grab cables from many places but for good measures, stick to reputable retailers.
Examine The USB Ports 
Determine whether the USB port you use to hook up the Focusrite audio interface is working. One way to test the USB port is to switch to another port and see how things turn out. If your computer recognizes Focusrite Scarlett 2I2 following the port change, you could conclude that the original port is at fault. Unless you have the tools and skills, it's best to leave the repair of damaged USB ports to the pros.
Send In The Unit For Repair 
The hardware detection problem persists no matter what you do? Then your Focusrite audio interface is likely the culprit and you must send it in for repair. Refrain from repairing Focusrite Scarlett 2I2 by yourself as that would void the manufacturer warranty. Contact the customer service of Focusrite, tell the employees about your situation and follow their instructions.
FAQs
Could I use USB hubs to connect Focusrite Scarlett 2I2?
Overall, once it comes to connecting flash drives, mouses and so on to computers, USB hubs work wonders. That being said, it's ill-advised to connect audio interfaces such as Focusrite Scarlett 2I2 to computers via USB hubs. For most of the time, the power level that USB hubs provide is insufficient to power audio interfaces consistently. If you wish to use Focusrite Scarlett 2I2, use one of the built-in USB ports of your computer.
Which software work best with Focusrite Scarlett 2I2?
Thanks to its outstanding compatibility, Focusrite Scarlett 2I2 is capable of working with all sorts of software: Auria Pro, Garageband, FL Studio, Cubasis 2, etc. Therefore, there is no need to download specific software to use Focusrite Scarlett 2I2.
What is the power requirement of Focusrite Scarlett 2I2?
In the course of operation, Focusrite Scarlett 2I2 consumes a small amount of power so it won't strain the power supply of your computer. As long as you keep the Focusrite audio interface connected to your computer, it's going to stay up and running.
Hi music fan! I am Jeff. Hope that you enjoy some stuff I shared here in my personal blog.
About myself, Currently I am  in charging as Artist Manager/Music Supervisor at 72 Music Management. I did managed album to Grammy Award in 2017 with 7 Nominations from 2014-2020 and had the opportunities to work with : A.J. Croce, Blind Boys of Alabama, Bobby Rush, Dom Flemons, Dustbowl Revival, Sarah Grace
Governor of the Memphis Chapter of The Recording Academy is one of a award that I am lucky to achieved.