In the world of pedals, Revv is well-known and a lot of people even regard it as their go-to brand. Among Revv products, Revv G3 and Revv G4 stand out as solid high-gain distortion pedals that can adapt to various settings. Still, both models share numerous similarities which make it hard to choose one over the other. Check out my article if you need insights into Revv G3 vs. G4 to make a wise investment.
Origin Of The Pedals
Once it comes to pedals, it is no exaggeration to say that Revv is one of the biggest companies out there. Over the years, they have introduced a wide range of products to the market including Revv G3 and G4.
Released in early and late 2018 respectively, G3 and G4 pedals made a big impact as a result of their capability. Despite their compact design, the pedals prove capable of producing an impressive sound. In addition, they support everything: Combos, Heads, Pedalboard Rigs and so on. Considering the amount of power in such a small package, it's no wonder that Revv G3 and G4 earn a shower of praise from the community.
Revv G3 Vs. G4: Outlines
Similarities
Since Revv G3 and G4 belong to the same series and they reach the market in the same year, there is no shortage of things they have in common. For instance, they serve as high-gain metal pedals in use. Besides that, both pedals use the same control scheme:
Three standard dials on top for Bass, Middle and Treble.
The second row consists of two dials for Volume and Gain plus a three-way Aggression switch in the middle.
At the bottom is a three-band EQ knob which enables various tonal options.
Both come alongside blue LEDs to show their current status.
Of course, the use of the same design also means Revv G3 and G4 pack similar handling characteristics. As mentioned above, it's possible to connect the pedals to all sorts of digital, analog, and hybrid rigs.
Noteworthily, Revv G3 and G4 run on standard 9v power supply but they can only make use of center negative 9v external power supply. Both pedals complement many genres such as punk, rock, premier metal, prog, fusion, blues, country, pop, …. Last but not least, they have the same price: both cost $229.
Differences
While they share a number of similarities, Revv G3 and G4 differ from each other in quite a few aspects. Here is an example: Though the pedals use identical designs, G3 comes in an elegant purple shade while G4 is coated in a bright red color.
Another thing that set G3 and G4 apart is their tone which is the reason why the community is at odds about Revv G3 vs. G4. In case you don't know, the tone of Revv G3 is known for being extremely tight and clear, perhaps due to the emphasis on mid-pushed tones. Regardless of the amount of interference in the surrounding environment, G3 and its volume of saturation will still guarantee satisfaction.
While G3 leans toward mid-pushed tones, Revv G4 takes that to a whole other level and generates thick, highly saturated amp-like tones. In other words, if G3 is a scalpel then G4 is a sledgehammer. In the course of operation, Revv G4 provides massively extended low and high end presence as well as tons of gains to boot. Therefore, G4 gives a good account itself in multiple arrangements and never fails to please.
On G3, if you use the default settings (all knobs at 12 o'clock and Aggression turned off), the result should be an unique heavy sound that metal fans worldwide adore. As you turn the dials, you will notice the constancy of fundamental sound and the absence of effect failures. If the Aggression switch is blue, the sound gets clearer while retaining that heavy vibe. But once you turn it to red, the resulting sound can become even heavier which is impressive in its own right.
The moment the G4's Aggression switch glows red, you will feel an impeccable amount of saturation and thickness, ideal for fat leads. When it switches to blue, extra frequencies should be added to the sounds to spice things up and deliver a touch of tightness. Turn the Aggression switch off and the result is a great classic tone perfect for blues. As a whole, G4 is amazing for thick gain yet still able to cover old-school tones in times of need.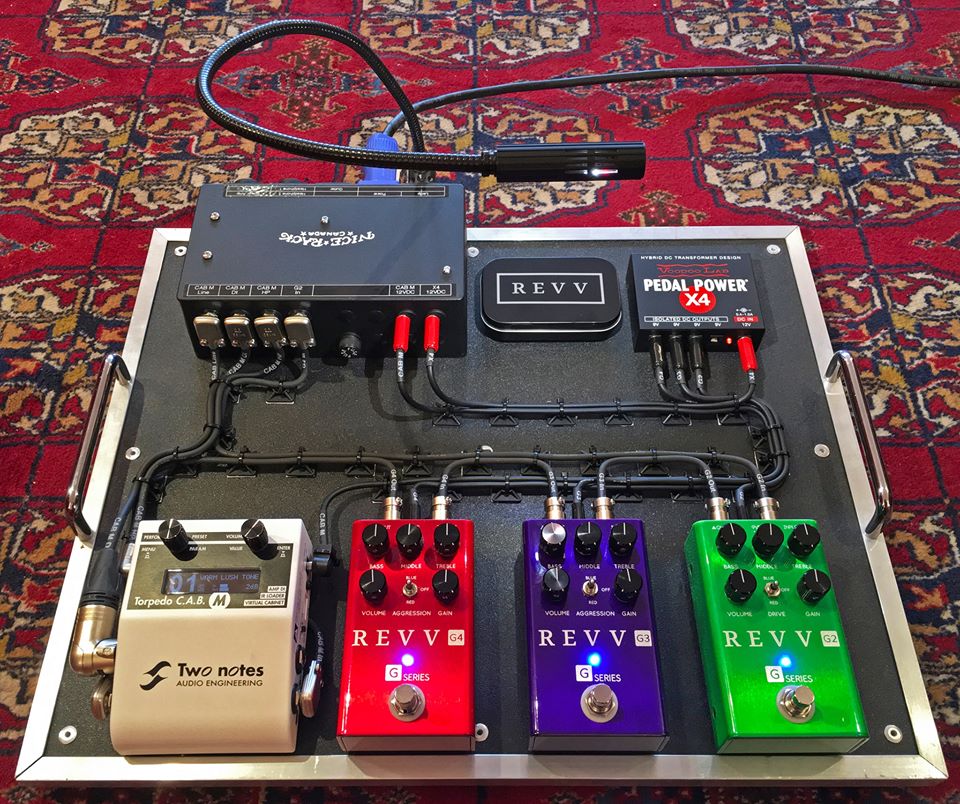 Summary
| | | |
| --- | --- | --- |
| | Revv G3 | Revv G4 |
| Design | Compact, Purple | Compact, Red |
| Controls | Easy to use | Easy to use |
| Compatibility | Great with any rig | Great with any rig |
| Price | $229 | $229 |
| Tone | Tight and clear | Thick, all-out saturation |
Hi music fan! I am Jeff. Hope that you enjoy some stuff I shared here in my personal blog.
About myself, Currently I am  in charging as Artist Manager/Music Supervisor at 72 Music Management. I did managed album to Grammy Award in 2017 with 7 Nominations from 2014-2020 and had the opportunities to work with : A.J. Croce, Blind Boys of Alabama, Bobby Rush, Dom Flemons, Dustbowl Revival, Sarah Grace
Governor of the Memphis Chapter of The Recording Academy is one of a award that I am lucky to achieved.