The solid reputation of EVH means all long-time members of the guitar community have heard of it at least once. At the moment, EVH is famous for its ability to put together high-quality products and EVH Wolfgang is a prime example. To cater to different people and different preferences, EVH releases EVH Wolfgang in several editions including Special and Standard. Continue reading if you want to know which one is the winner in EVH Wolfgang Special vs. Standard and make your purchase accordingly.
A Comparison of The Guitars
Appearance
Both editions feature impressive fingerboards: they make use of a complex radius maple fingerboard consisting of 22 jumbo frets. That allows EVH Wolfgang Special and Standard to deliver performance in various applications from riffing to leads. Besides that, the two guitars also utilize baked maple created by removing moisture from the wood. As a result,  EVH Wolfgang Special and Standard boast excellent humidity resistance and crystal-clear sounds.
Similar to Standard, Special incorporates the Wolfgang backshape neck shape as well as a comfortable forearm contour for improved playability. However, unlike Standard, Special is accompanied by a quartersawn Maple neck that adds more durability and an extra touch of elegance.
Additionally, EVH Wolfgang Special packs a basswood body, a curved top and a sturdy bolt-on headwall maple neck with graphite reinforcement. The body is arched and the build quality is overall better owing to the use of superior materials. On the other hand, Standard integrates a quilted maple top and a noticeably thinner neck compared to the Special. Its body is countered and the build quality is less than ideal though that is not a deal-breaker.
Features
As you would expect, Special comes alongside a few extra features that guitarists may find helpful. For instance, it possesses a Volume Control with a treble circuit and a tone adjustment with a high friction pot. Additional pickups also appear: a 3-position toggle with a bridge pickup, a bridge and neck pickup and a neck pickup. All of the mentioned features don't show up on Standard but then again, the impact of their absence on performance is not considerable.
Sound
Guitarists who have tried Special and Standard claimed that the former is cleaner and its riffs sound more devilish in volume as well as energy. Beyond that, Special and Standard sound a lot like each other and people believe that they both should work equally well. It is also worth pointing out that the extra features on Special usually guarantee a high level of flexibility. That gives Special an edge over Standard, especially if you dabble in multiple playstyles.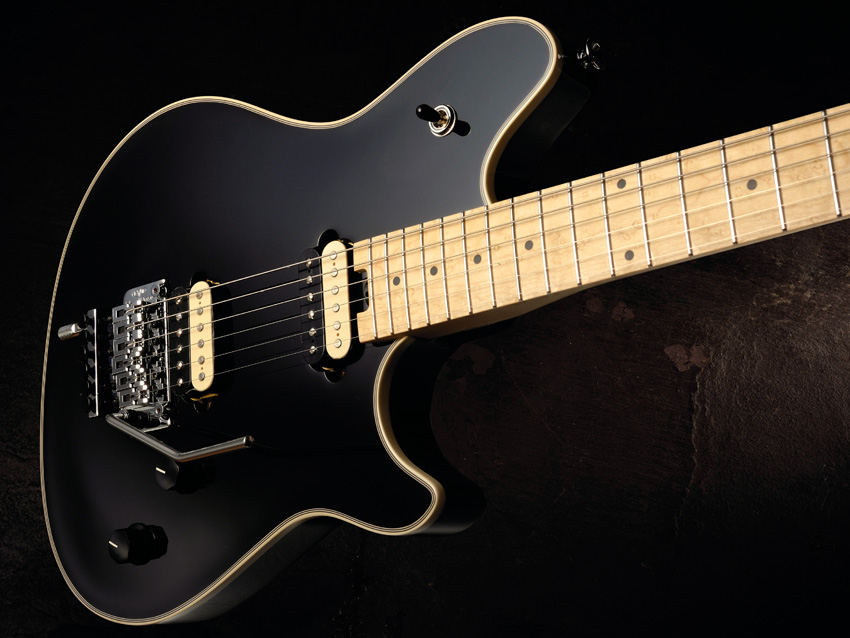 Final Words
| | | |
| --- | --- | --- |
| | EVH Wolfgang Special | EVH Wolfgang Standard |
| Body | Arched body | Countered body |
| Neck | Thick | Thin |
| Additional Features | Volume control, Tone adjustment, additional pickups | N/A |
| Sound | Clean and plenty of riff | Standard |
| Price | Expensive | Inexpensive |
It is not an exaggeration to say that both EVH Wolfgang Standard and Special are among the top electric guitars out there. The EVH  guitars have seen frequent use in all kinds of venues all over the globe.  Considering their breathtaking aesthetics, amazing sounds and vast playability, it is no wonder that both have earned great fame.
Compared to Standard, Special contains a series of improvements that lets it satisfy any and all playing styles. However, Special costs a lot of money so it's wise to take your budget into account. Of course, since EVH Wolfgang Special is one of the best electric guitars, it may be well worth the money if you play professionally and want something of quality.
If you're looking to upgrade from Standard to Special, keep in mind that the only major differences between them are their appearance and some extra volume/tone options. All in all, unless you have what it takes to employ the additional features of Special, Standard is more than sufficient.
EVH And EVH Wolfgang: Facts
EVH is short for Eddie Van Halen and it is a company owned by Fenders Musical Instrument Corporation. EVH Wolfgang guitar brand is named after Eddie Van Halen's son Wolfgang Van Halen and classical music composer Wolfgang Amadeus Mozart. EVH Wolfgang originates from the Peavey EVH Wolfgang when Van Halen set out to rebuild the guitar in 2005. It comes in 3 versions: EVH Wolfgang USA, EVH Wolfgang Special and EVH Wolfgang WG Standard.
Released in 2010, Wolfgang Special first made its debut in the music industry through a factory in Japan. Later, that factory was closed and a new and improved Wolfgang Special was made in California. Noteworthily, Wolfgang Standard actually reached the market after  Wolfgang Special as it was first introduced in 2014. Made in Indonesia, it has the lowest price of all the EVH models.
Hi music fan! I am Jeff. Hope that you enjoy some stuff I shared here in my personal blog.
About myself, Currently I am  in charging as Artist Manager/Music Supervisor at 72 Music Management. I did managed album to Grammy Award in 2017 with 7 Nominations from 2014-2020 and had the opportunities to work with : A.J. Croce, Blind Boys of Alabama, Bobby Rush, Dom Flemons, Dustbowl Revival, Sarah Grace
Governor of the Memphis Chapter of The Recording Academy is one of a award that I am lucky to achieved.