Once it comes to spicing up the tone, modern guitarists have various options but overdrive pedals usually reign supreme. Among overdrive pedals on the market nowadays, not many models can match Klon and Tube Screamer in terms of efficiency and effectiveness. Needless to say, the topic of Klon vs Tube Screamer lies at the center of many discussions and debates in the community. Read to the end if you want to know which pedal works best for you.
Description
Klon
Guitarists often use the term "Klon" to refer to an overdrive pedal that belongs to the same series of clones of Klon Centaur (1994). The original pedal was invented by an American engineer named Bill Finnegan and he single-handedly crafted every unit. The custom-made nature of Klon Centaur caused supply-demand issues and production ceased in 2008. Back then, quite a few people thought that Klon would soon fade into obscurity.
In 2014, Klon Centaur was redesigned and received a brand new name: Klon KTR. That version proves easier to produce and repair but still retains the sound quality of its predecessor. Since then, multiple clones of the Klon series have been created by a wide range of companies. Of course, it is hard to keep track of each and every version so guitarists simply call every Klon-related pedal a "Klon".
Tube Screamer
Produced by Ibanez in the late 1970s, Tube Screamer quickly became a classic overdrive pedal loved by many guitarists worldwide. Throughout history, Tube Screamer has witnessed a number of revisions in design: TS808 in the late 1970s; TS9 in the early 1980s; TS10 in 1986; and so on. The most recent version of Tube Screamer is TS9B which was released in 2011 and specialized for bass players.
Comparison
Tone
For your information, just because Klon and Tube Screamer belong to the overdrive category does not mean they have the same sound. The Klon series consists of hard clippers while the Tube Screamer series consists of soft clippers. As a result, the biggest difference between Klon and Tube Screamer is their overdrive type.
Klon pedals have an aggressive tone with plenty of compression so their sounds resemble a distortion effect. It is worth noting that Klon pedals stay on the mild side of the hard clippers and you can only notice the differences if you crank the drive up.
On the other hand, Tube Screamer pedals have a natural sound in most of the cases. True to its name, the Tube Screamer's sound effects don't differ much from that of tube amp.
Another difference between Klon and Tube Screamer is their effects on the equalizer.
Klon pedals are considered transparent overdrive pedals which means they do not dramatically affect the equalizer. Consequently, Klon-type pedals produce smoother sounds and do not cut the bass as much as Tube Screamer pedals.
In contrast, Tube Screamer pedals can heavily affect the equalizer and create grittier sounds. Such pedals are also superior in cutting the bass frequencies and boosting the mid-range.
Overdrive Range
All things considered, it is difficult to compare the overdrive range of these pedals due to the sheer amount of difference between versions, clones, … Still, there are some general differences in range that you must know:
Klon pedals, especially the original Klon Centaur pedal, are famous for their expansive overdrive levels. By turning the dial, you can go anywhere from a clean boost to a very aggressive tone.
Meanwhile, Tube Screamer pedals are known for their limited drive range. This means that Tube Screamer pedals won't have the same level of flexibility as Klon ones.
Volume
Again, you should note that comparison may vary depending on the models you are trying to look into. The general consensus is that Klon-style pedals are overall louder than Tube Screamer ones. The differences are negligible though so there is no need to be overly concerned about them.
Price And Availability
Since the original Klon Centaur went out of production in 2008, it goes without saying that any copies that remain today will have their prices skyrocket. Fortunately, Klon KTR as well as similar clones exist so you won't have to burn your wallet chasing an antique. However, Klon KTR is still on the expensive side of overdrive pedals so you should keep that in mind.
Unlike Klon, Tube Screamer pedals are far more accessible at the moment and cheaper to boot. That being said different versions may create different sounds, so be sure to carry out thorough research before you make a purchase.
| | | |
| --- | --- | --- |
| | Klon | Tube Screamer |
| Tone | Aggressive | Natural |
| Overdrive type | Hard-clipper | Soft-Clipper |
| Effect on equalizer | Not much | Substantial |
| Overdrive range | Wide | Narrow |
| Price | Expensive | Cheap |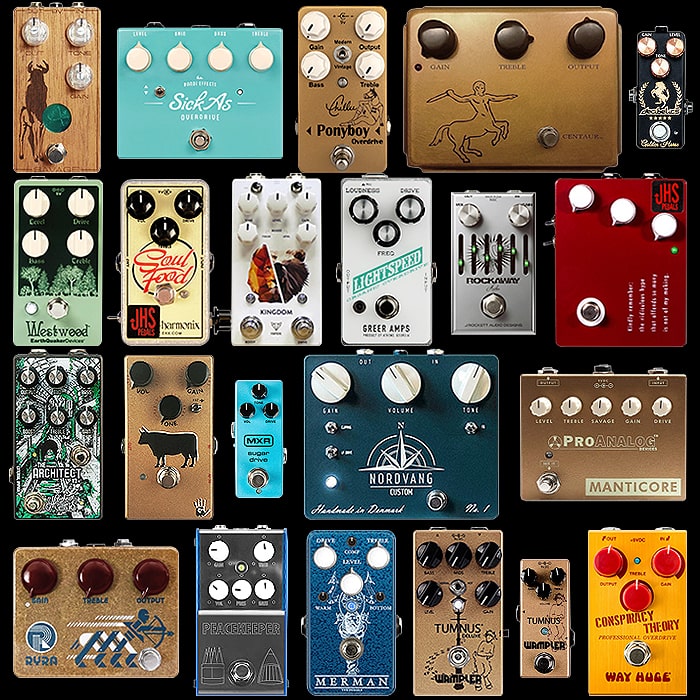 Hi music fan! I am Jeff. Hope that you enjoy some stuff I shared here in my personal blog.
About myself, Currently I am  in charging as Artist Manager/Music Supervisor at 72 Music Management. I did managed album to Grammy Award in 2017 with 7 Nominations from 2014-2020 and had the opportunities to work with : A.J. Croce, Blind Boys of Alabama, Bobby Rush, Dom Flemons, Dustbowl Revival, Sarah Grace
Governor of the Memphis Chapter of The Recording Academy is one of a award that I am lucky to achieved.