To every music producer around the globe nowadays, Digital Audio Workstation (DAW) is indispensable. At the moment, Ableton Live is one of the biggest DAWs out there but it comes in four different editions which causes quite a bit of confusion. You have heard great things about Ableton Live but don't know which one is the winner in Ableton Live Intro vs Lite? In that case, my article can help you out.
Compilation
Created in the mid-1990s for Windows and MacOS by the Ableton company, Ableton Live has proven itself as a remarkable DAW. For your information, most DAWs are fully capable of producing and recording many types of audio but Ableton Live goes above and beyond:
It is designed from the ground up as an instrument for live performances. Since it incorporates flexible controls for beatmatching, crossfading and various other effects, it is frequently used by DJs.
In addition to recording, it grants users additional options in the form of composing, mixing, arranging and mastering.
Today, Ableton Live DAW is available in four editions: Intro, Lite, Standard and Suite.
Intro is a budget version that provides only the basic necessities and you can purchase it for only $99.
Lite, similar to Intro, is also a budget version with limited function but it cannot be purchased as a standalone version. It comes bundled with various types of music production hardware.
Standard, as its name suggests, is the normal edition with most of the features available and costs around $449.
Suite is the premium edition with thousands of additional sounds, audio effects and MIDI effects. Needless to say, among versions of Ableton Live, it's the most expensive ($749).
In layman's terms, both Intro and Lite are budget editions that only offer the core features. That being said, both editions are not entirely the same as each of them has some capabilities that the other does not possess. Consequently, people who are unfamiliar with Able Live get confused once it comes to getting the budget edition.
Comparison
System Requirements
Both Intro and Lite editions of Ableton Live share the same recommended system requirements:
For Windows:
Operating System: Windows 10.
CPU: Intel core i5 or AMD multi-core chip.
RAM: 8GB or higher.
Display: Must support at least 1366 x 768 resolution.
Disk space: 3GB minimum for installation. Extra sound files may require up to 76GB.
Network: Requires stable Internet connection for downloading content as well as updating Ableton Live.
For macOS:
Operating System: OS x 10.13 or newer.
CPU: Intel core i5.
RAM: 8GB or higher.
Display: Must support 1280 x 800 resolution.
Disk space: 3GB.
Requires a Core Audio interface-compliant device.
Features
Naturally, the biggest question regarding Ableton Live Intro vs Lite is "which one has more functions?". Between the two versions, Ableton Live Intro has the upper hand regarding the number of available features.
16 MIDI and audio tracks available.
16 distinct scenes.
8 mono input channels and 8 mono output channels.
2 send and return tracks.
Sound library contains up to 1500 sounds.
Comes with over 15 software instruments: Impulse, drum rock, simpler, and more in the instrument pack. All of which can be used together with external instruments.
Access to complex warp modes.
Access to MIDI, including Expression Control, MIDI monitor, and MPE controls.
Includes Control mappings for many hardware controllers.
And various additional features such as comping, note and velocity changes, tempo, and MIDI polyphonic expressions.
On the other hand, Ableton Live Lite has noticeably fewer amount of sounds, effects, instruments and mixer channels:
8 MIDI and audio tracks.
8 distinct scenes.
2 send and return tracks.
8 mono input and 8 mono output channels.
Various audio effects such as beat repeat, auto filter, chorus, compressor, EQ three, erosion, redux, reverb, tuner, simple delay, and utility.
Access to some software instruments via the instrument rack.
MIDI effects such as arpeggiator, chord, note length, pitch, scale, random, and velocity are available.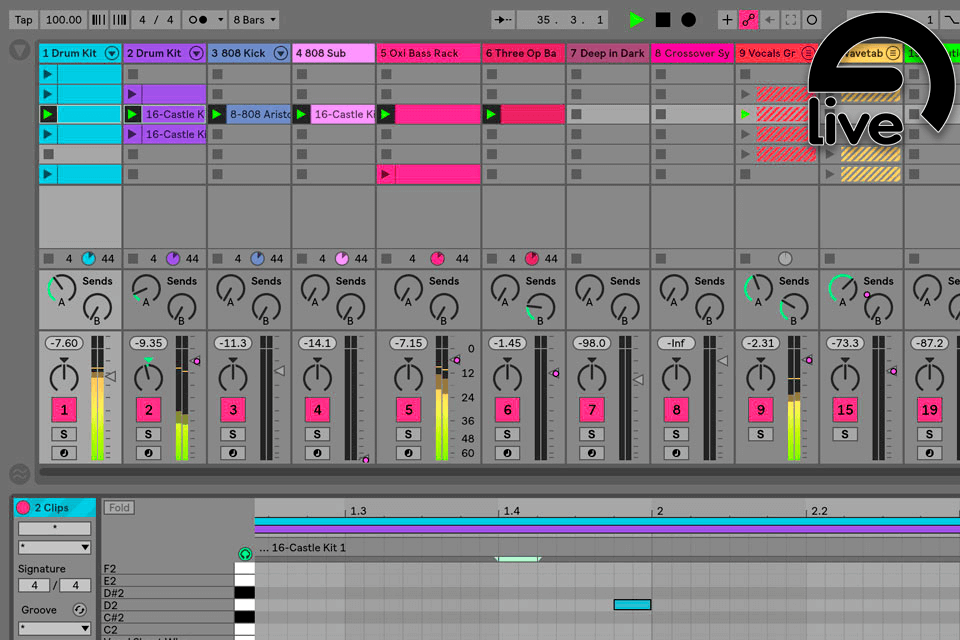 Summary
| | | |
| --- | --- | --- |
| | Intro | Lite |
| System Requirements | Standard, may require more disk space. | Standard |
| Core functions | Available | Available |
| Number of tracks | 16 audio and MIDI | 8 audio and MIDI |
| Number of software instrument | High, can use external instruments | Low, not compatible with external instruments |
| Additional features | Yes | Limited |
Conclusion
All in all, both Intro and Lite editions of Ableton Live are incredibly helpful for how cheap they are. While Intro has a noticeably higher number of tracks as well as some additional features, the difference isn't all that massive. This is especially true if you're new to DAW and the Lite version should more than suffice for casual use. Furthermore, if you have purchased audio hardware in the past such as a MIDI controller, there's a good chance that you own a card containing a free license for Ableton Live Lite.
Hi music fan! I am Jeff. Hope that you enjoy some stuff I shared here in my personal blog.
About myself, Currently I am  in charging as Artist Manager/Music Supervisor at 72 Music Management. I did managed album to Grammy Award in 2017 with 7 Nominations from 2014-2020 and had the opportunities to work with : A.J. Croce, Blind Boys of Alabama, Bobby Rush, Dom Flemons, Dustbowl Revival, Sarah Grace
Governor of the Memphis Chapter of The Recording Academy is one of a award that I am lucky to achieved.