It's common knowledge among guitarists that in order to optimize sound quality, all of the equipment must be up to standard. While it's usually overlooked, the guitar cable is extremely important and should be given due consideration. In discussions about guitar cables, Mogami Platinum vs. Gold is one of the topics that have come up repeatedly over the years. The differences in preferences mean that the community is at odds once it comes to deciding the winner between the two Mogami cables.
Unable to make up your mind on the cable to get? In that case, take a look at my article and learn which cable suits you most.
A Summary Of The Cables
| | | |
| --- | --- | --- |
| | Mogami Platinum | Mogami Gold |
| Silent Plug | Yes | Yes |
| Insulation | Yes | Yes |
| Spiral Shield | Yes | Yes |
| Warranty | Lifetime | Lifetime |
| Price | Expensive | Affordable |
| Diameter | Larger (3368 Cable) | Smaller (2524 Cable) |
| Compatibility | Various Instruments | Guitar only |
Mogami Platinum Vs. Gold: Breakdown
Cables made by Mogami have the reputation of being some of the best in the market and it's easy to see why. Everything from feature to performance is nothing short of remarkable.
However, it may be difficult to notice the differences between Mogami Platinum and Gold. After all, only the most dedicated experts would be able to appreciate the subtle differences in performance. Here, the details regarding their similarities as well as differences will be arranged side-by-side for your convenience. After you finish reading, you should be able to make an informed purchase.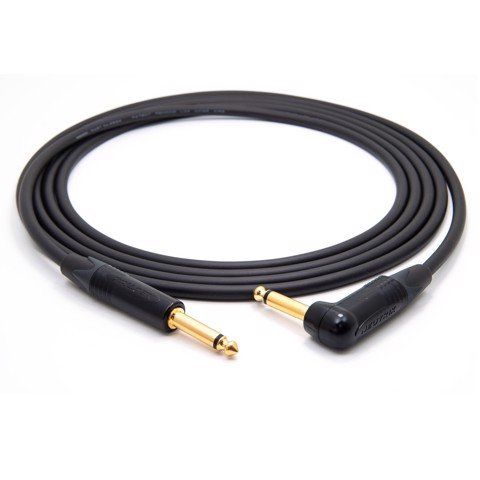 Similarities
One thing that Mogami Platinum and Gold have in common is that both make use of the Mogami trademark spiral shield. The shield offers complete protection by fully covering the important areas of the cables. Furthermore, both of them are made with materials of very high quality. Designed by teams of skilled engineers, these cables come with foam dielectric, making them suitable for long-term usage.
Thanks to the anti-static shield layer, safety of the Mogami cables is also fantastic. You will no longer need to worry about issues involving capacitance, resistance and so on. For post-purchase support, as top-of-the line-products, Mogami Platinum and Gold cables come alongside a lifetime warranty. As long as you don't lose your cable altogether, you don't need to look for a cable replacement in the foreseeable future.
Differences
Composition
Mogami Platinum guitar cable is constructed using the Mogami 3302 Platinum Plus Ultra Dynamic Instrument cable as well as Neutrik Silent Plug. In layman's terms, Platinum is one of the thickest cable types you can get on the market. That and the rugged design results in tip-top protection against physical accidents such as tripping. It also ensures solid sound quality as well as nonexistent latency.
While not as tough as Platinum, Mogami Gold guitar cable is an excellent cable in its own right. It is made from the Mogami 2524 Guitar cable and includes a Neutrik Silent Plug. The key takeaway here is that Gold only reduces micro-phonics while Platinum removes micro-phonics entirely.
Protection
Mogami Platinum cable packs extra insulation consisting of Conductive PVC so it's good at eliminating handling noise. That alone makes it one of the most, if not the most transparent-sounding cable in the market. On the other hand, Mogami Gold cable utilizes carbon-impregnated PVC that presents a layer of anti-static shield. Gold still removes most handling noises but the result is not as good as that of Platinum.
Compatibility
Unlike Gold, Platinum is not limited to guitars. It can be used for quite a few instruments such as keyboard, pedal effects and so on.
Price
Needless to say, since Mogami Platinum is a high-end cable, it costs a large sum of money. Then again, if you take the lifetime warranty into account, it does not sound like a bad deal. Meanwhile, Mogami Gold is available at a price that is more manageable for the average guitarist. If you think about your wallet, you can deduce which cable is for you.
Frequently Asked Questions
Is it worth buying Mogami Platinum?
That is a rather controversial question as different artists have different takes on the matter. Some say the added benefits are completely worth it while others claim that it is unnecessary and overpriced. You should make your choice based on 2 main criteria:
Are you a big-time performer and need the absolute best gear you can get?
Can you afford the Mogami Platinum Cable without much trouble?
Does Mogami make other products?
In addition to guitar cables, Mogami also makes keyboards, electric/bass/acoustic guitars, speakers, microphones, etc.
Hi music fan! I am Jeff. Hope that you enjoy some stuff I shared here in my personal blog.
About myself, Currently I am  in charging as Artist Manager/Music Supervisor at 72 Music Management. I did managed album to Grammy Award in 2017 with 7 Nominations from 2014-2020 and had the opportunities to work with : A.J. Croce, Blind Boys of Alabama, Bobby Rush, Dom Flemons, Dustbowl Revival, Sarah Grace
Governor of the Memphis Chapter of The Recording Academy is one of a award that I am lucky to achieved.