Known for its emphasis on efficiency and effectiveness, Harman Kardon is able to introduce high-quality audio equipment that ranks highly in all sorts of reviews. For example, in the Bluetooth speaker category, Onyx Studio 1 and 2 have proven to be some of the best models in their price range. Curious about which model will come out on top in Harman Kardon Onyx Studio 2 vs 1? In that case, you should read my article till the end to gain a complete understanding of the speakers.
Insights Into The Speakers
| | | |
| --- | --- | --- |
| | Onyx Studio 1 | Onyx Studio 2 |
| Frequency Range | 60Hz – 20kHz | 60Hz – 20kHz |
| No. of Channels | 4 | 4 |
| Amplification | 4 x 15W | 4 x 15W |
| Battery Capacity | 2600mAh | 2600mAh |
| Dimensions | 280mm x 161mm x 260mm | 280mm x 161mm x 260mm |
| Wireless Compatibility | Bluetooth 3.0 A2DP v1.3 AVRCP v1.5 | Bluetooth 3.0 A2DP v1.3 AVRCP v1.5 |
| Appearance | Classic, original | Sleek, more modern |
| Features | Bare minimum | Multiple device support, phone integration |
Head-To-Head Review: Similarities And Differences
Similarities
If you look at the specifications, both of these speakers feature the same frequency range of 60Hz – 20kHz and the same number of channels. The similarities do not stop there: their amplifications (4 x 15W), battery capacities (2600mAh) and wireless capabilities (Bluetooth 3.0 A2DP v1.3 AVRCP v1.5) appear the same too. Even their sizes are identical (280mm x 161mm x 260mm). After looking at specifications, you may assume Harman Kardon created Onyx Studio 2 purely for marketing purposes but in reality, differences exist and you should take them into account.
Differences
Appearance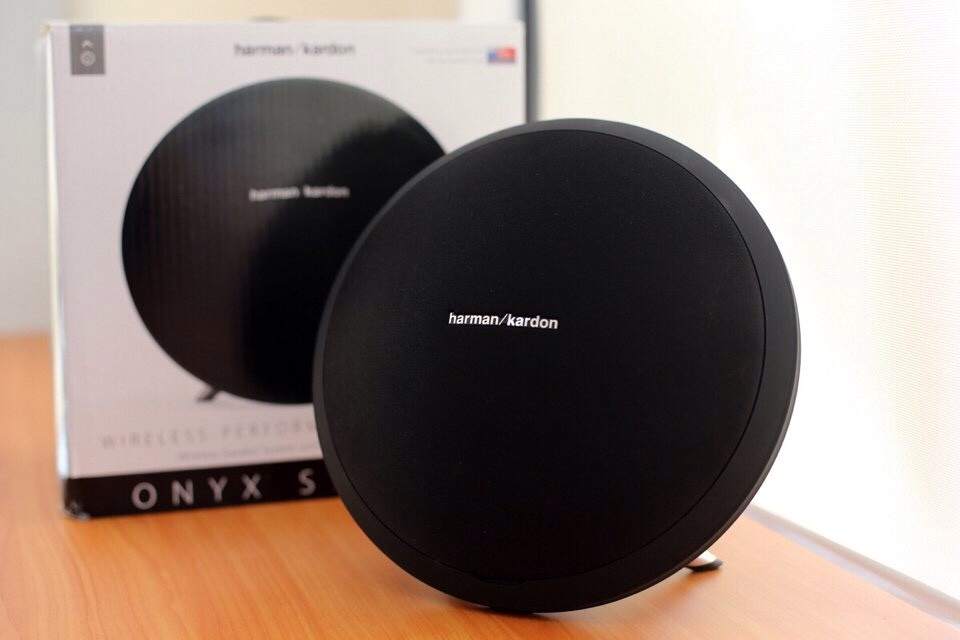 The first and most obvious difference is their appearance. While the speakers are identical in size, that does not stop the creators from adding their own aesthetic touches to their designs. being the first of its kind, Onyx Studio 1 has set the standard for the rest of the speaker series:
It has the classic circular design that leans back on two silver feet.
The woofer has the original brushed silver dome complimented by the Harman Kardon brand name in the center.
On the top lies the set of controls which features soft-touch controls for Bluetooth, power, and volume.
In the front, you will find the design of the grille not much different from newer models except for the thick rubber ring that surrounds it.
Overall, if you're a fan of the Onyx Studio series, you will find the design of Onyx Studio 1 endearing even if it is a bit lackluster in other regards. In the case of Onyx Studio 2:
It features a slightly more modern look compared to the original.
While the circular design remains the same, the legs are now coated in a shine of copper and finished with a shade of black on the feet.
The woofer is also colored with the same copper hue.
The controls are mostly the same as Onyx Studio 1, but there is a new phone button you can find added to the set. Furthermore, the controls are slightly indented for the user's convenience.
In place of the rubber ring, there is a Tolex-type finish that gives a more textured feel while still retaining the softness.
In short, Onyx Studio 2 is the way to go if you are going for a classic look yet find the Onyx Studio 1 too old-school for your liking.
Features
Regarding features, Onyx Studio 1 falls a bit short: As the very first model, it does not have many features. It remains compatible with a lot of contemporary devices since it supports Bluetooth 3.0 but it does not offer beyond that. That's not to say that this speaker is bad, it just lacks additional features one might find in modern models. The sound quality is still top-notch so if you are looking for a speaker that does its job well, Onyx Studio 1 will not let you down.
Compared to its predecessor, Onyx Studio 2 has a number of new features you may find interesting. The first is multi-device support which allows multiple devices to pair with the speaker, increasing adaptability in use. The second and perhaps most important feature on Onyx Studio 2 is phone integration. Onyx Studio 2 comes alongside a new built-in microphone in the front which uses Harman VoiceLogic echo and noise cancellation for all your phone call needs.
Frequently Asked Questions
What is the newest Onyx Studio model?
Currently, the newest Onyx Studio model is the Harman Kardon Onyx Studio 8.
How come Harman Kardon speakers cost so much?
The main reason is that Harman Kardon speakers are famous for their amazing sound quality, which is rare to find on portable bluetooth speakers. Furthermore, the more expensive the speaker, the more high quality its parts are.
Hi music fan! I am Jeff. Hope that you enjoy some stuff I shared here in my personal blog.
About myself, Currently I am  in charging as Artist Manager/Music Supervisor at 72 Music Management. I did managed album to Grammy Award in 2017 with 7 Nominations from 2014-2020 and had the opportunities to work with : A.J. Croce, Blind Boys of Alabama, Bobby Rush, Dom Flemons, Dustbowl Revival, Sarah Grace
Governor of the Memphis Chapter of The Recording Academy is one of a award that I am lucky to achieved.